Stephen A. White, Ph.D.

Steve has over 25 years of process modeling experience, ranging from modeling pilot workload to commercial business processes, and has been involved in most aspects of business process modeling software, from product management, interaction design, consulting, training, and technical writing. In the last few years, he has been active in the development of business modeling standards, was the primary editor of the BPMN 1.0 and BPMN 2.0 specifications.

Steve is located in Orange County, California, USA.
Notable Accomplishments
On Business Process Management Institute (BPMI) Board of Directors
Chair of BPMI Notation Working Group
Author/Editor of Business Process Modeling Notation (BPMN) 1.0 Technical Specification
Chair of OMG Finalization Task Force (FTF) for BPMN 1.1 (Spec Editor)
Chair of OMG Revision Task Force (RTF) for BPMN 1.2 (Spec Editor)
Co-Chair of OMG FTF for BPMN 2.0

Co-Author/Editor of Business Process Model and Notation (BPMN) 2.0 Technical Specification
Contributor to OMG CMMN 1.0 specification
Published various white papers/book chapters on BPMN
Co-Authored Book "BPMN modeling and reference guide"
Certifications
IBM Certified BPM Analyst
Blueworks Live; Business Process Manager Express or Standard Edition V8.0

OMG OCEB BPMN Certification

Publications

Interviewed by Sandeep Johal, Leonardo Consulting, "Process Modeling Notation with an Expert" - October, 2016, YouTube: https://www.youtube.com/watch?v=wDjVvQlgGzY
Interviewed by Sandeep Johal, Leonardo Consulting, "BPMN Myths Debunked with Stephen White" - September, 2016, YouTube: https://www.youtube.com/watch?v=01Mg0X-WeKA
Paul Harmon (Editor), Roger Tregear (Editor): Questioning BPM? [Stephen A. White - contributor] Meghan-Kiffer Press, 2016, ISBN-13: 978-0929652542
Mark von Rosing, Stephen A. White, Fred Cummings, Henk de Man: Chapter: Business Process Modeling Notation - BPMN in book: The Complete Business Process Handbook: Vol I, Morgan Kaufmann, 2014, ISBN/ISSN: 978-0127999593
Stephen A. White, Conrad Bock: Chapter: New Capabilities for Process Modeling in BPMN 2.0, in book: BPMN 2.0 Handbook: Second Edition, Future Strategies, Incorporated, 2011, ISBN/ISSN: 098497640X
Stephen A. White: BPMN 2.0 Advances Process Modeling, in: Online Journal, IBM BlueWorks, 2010
Stephen A. White, Conrad Bock: Chapter: New Capabilities for Process and Interaction Modeling in BPMN 2, in book: BPMN 2.0 Handbook, Future Strategies, Incorporated, 2010, ISBN/ISSN: 0981987036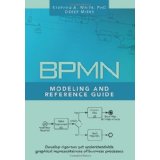 ---
Stephen A. White: Chapter: BPMN and BPEL, in Book: Workflow Handbook 2005 (anthology), Future Strategies, Inc., 2005, ISBN/ISSN: 0970350988
Stephen A. White: Chapter: Process Modeling Notations and Workflow Patterns, in book: Workflow Handbook 2004 (anthology) and Journal, Future Strategies, Inc., and BP Trends, 2004, ISBN/ISSN: 0970350961
Stephen A. White: Introduction to BPMN, in: Journal, BP Trends, 2004
Stephen A. White: Chapter: XPDL and BPMN, in Book: Workflow Handbook 2003 (anthology), Future Strategies, Inc., 2003, ISBN/ISSN: 0970350945
Organization Memberships

Work Experience

CEO / Founder - BPM Advantage Consulting, Inc.: July 2015 – Present
Adjunct Professor - School of Business, Stevens Institute of Technology: Jan 2017 - Present
BPM Architect - IBM: May 2003 – July 2015
Director, Standards and Product Strategy - SeeBeyond: 2000 – 2003
Product Manager - Holosofx: 1994 – 2000
Research Scientist - Perceptronics, Inc: 1989 – 1994
Education
UCLA Ph.D. in Cognitive Psychology
Other
Married, father of 2
Avid beach volleyball player (for over 20 years)
Amateur music composer
---